YAY WE FINALLY HAVE NND CORNER UP ASDOFHSDOHIFasodifhsdioah Sorry for the delay.
TBH though this is just going to be a stream of consciousness from my head (which is basically a crapload of fangirling and barely cohesive words so be prepared).
Anyways. FIRST UP WE HAVE THE UTAITE/PRODUCER/COMPOSER/FABULOUS PERSON, HALYOSY
His utaite wiki page: http://utaite.wikia.com/wiki/Halyosy
His YouTube page: https://www.youtube.com/user/halyosy
His NND page: http://www.nicovideo.jp/user/1101042
Halyosy used to be a singer in the band absorb, along with that and it. (Those are their actual stage names, by the way. I'm not making it up I swear.) They've disbanded

but no worries, because he still sings and does covers and writes and holds lives and stuff. Halyosy has written many songs, such as Sakura no Ame, Blessings, Smiling and Connecting (wow he has a lot of verbs e_e). Blessings, Smiling, and Connecting are all huge NND chorus songs. In fact, many of Halyosy's songs are made into huge NND choruses.
As a singer, Halyosy has a very passionate way of singing. His voice is mostly in the middle range, however he can sing quite high. I can't possibly explain the fabulousness and the musicality of his voice, so here's Halyosy covering a gorgeous arrangement of the song Melt.
http://www.nicovideo.jp/watch/nm3954320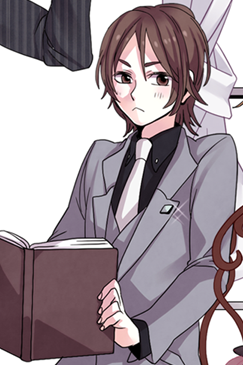 (His icon)
Anyways. I can't remember what else I needed to write here oops. So. GO LISTEN TO HIS MUSIC YOU WON'T REGRET IT REALLY IT'S AMAZING ASIOFHASDOIFHSODI